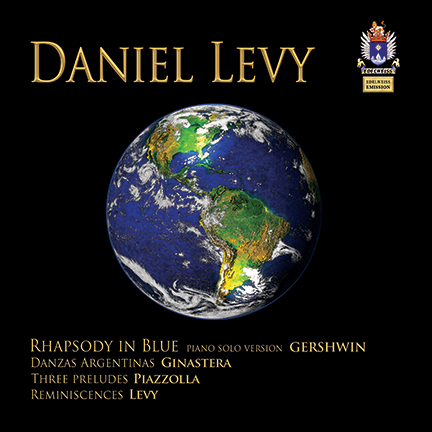 Gershwin: Rhapsody in Blue (piano solo version);
Ginastera: Danzas Argentinas;
Piazzolla: Three Preludes;
Levy: Reminiscences

Daniel Levy, piano
Also Available on:    
 
Series: The Voice of the Piano
Recording location: Rosslyn Hill, London (UK) & Chiesa di San Martino (Ronco sopra Ascona), Switzerland
Booklet Languages: English & Spanish
This fantastic new recording contains works by celebrated composers from North and South America, which reveal the musical essence of this great continent.
This album includes the original piano solo version of George Gershwin's famous Rhapsody in Blue and the rhythms of Argentine Dances by Astor Piazzolla and Alberto Ginastera.
Piazzola's Three Preludes were composed in New York and are one of the few original compositions for piano solo.
The album also features an original composition titled 'Reminiscences' by Daniel Levy himself, allowing us to appreciate him both as a performer and a composer in this special occasion.

TRACK PREVIEWS 
samples of tracks


DANIEL LEVY PLAYS GERSHWIN – GINASTERA – PIAZZOLLA – LEVY
| | |
| --- | --- |
| ALBERTO GINASTERA: Tres Danzas Argentinas | |
| 1. Danza del viejo Viejo Boyero Dance of the old Drover              |  01′ 22″ |
| 2. Danza de la Moza Donosa Dance of the Graceful Girl          |  03′ 48″ |
| 3. Danza del Gaucho Matrero Dance of the Brigand Gaucho |  03′ 22″ |
| | |
| ASTOR PIAZZOLLA: Three Preludes (1987) | |
| 4. Tango (Leijia's Game) |  04′ 44″ |
| 5. Milonga (Flora's Game) |  08′ 27″ |
| 6. Vals (Sunny's Game) |  03′ 41″ |
| | |
| DANIEL LEVY | |
| 7. Reminiscences |  13′ 17″ |
| | |
|  GEORGE GERSHWIN | |
|  8. Rhapsody in Blue (Piano solo version) |  20′ 08″ |

Total Playing Time:  58:55
Guardar