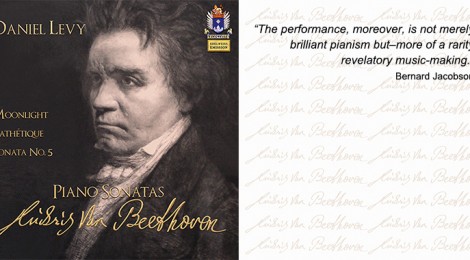 LUDWIG VAN BEETHOVEN
Piano Sonata No. 5
Piano Sonata No. 8 (Pathétique)
Piano Sonata No. 14 (Moonlight)
Daniel Levy, piano
EDEM 3380 – NEW RELEASE
Also Available on:
Series: The Voice of the Piano
Recording location: Rosslyn Hill Chapel, London (UK)
Booklet Language (CD version): English
Booklet Languages (download version): English 
"The performance, moreover, is not merely brilliant pianism but–more of a rarity–revelatory music-making. Too many performers are inclined to rush through silences as if afraid of losing their audience, but Levy allows plenty of time for negotiating Beethoven's rests, and he also takes time to permit the occasional melodic decoration to make its full effect."
Bernard Jacobson
IN LOVING MEMORY OF ALICE HERZ-SOMMER
Alice was the oldest holocaust survivor and sadly passed away in 2014.
She adored Beethoven's music and Daniel Levy had the privilege to play Beethoven for her when she was 108 years old.
This recording is dedicated to her life.
Total Playing Time:  54:59